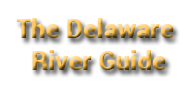 Interactive Maps
Thematic Maps
Search Delaware Sites
Also Explore
Mouth of the Delaware River
Historic Site

A pair of granite obelisks, located here, and directly across the Delaware River at Liston Point, Delaware, mark the end of the Delaware Bay and the start of the Delaware River. These stone markers, erected in 1906, are only accessible by boat. The inscription on the Liston Point monument reads:
"A straight line drawn from the centre of this monument to the centre of a similar monument erected at the mouth of the Hope Creek on the New Jersey shore is the dividing line between the Delaware River and Bay.

"Ascertained June 22, A.D. 1906 in pursuance of Uniform Acts of the Legislatures of the State of Delaware and the Sate of New Jersey, approved A.D. 1905."
Suggested Links
Contact Information
New Jersey Division of Fish and Wildlife
Alloway Creek Neck Road
Hancocks Bridge NJ 08038

Website