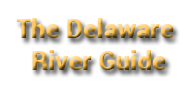 Interactive Maps
Thematic Maps
Search Delaware Sites
Also Explore
John Heinz National Wildlife Refuge
National Wildlife Refuge

John Heinz National Wildlife Refuge at Tinicum is part of the U.S. Fish and Wildlife Service's National Wildlife Refuge System. A network of lands set aside for the benefit of native wildlife and plants. Established in 1972 through local activism, the refuge protects habitat for the benefit of both people and wildlife. Visitors to the refuge may observe hundreds of species of plants, trees, birds, insects and mammals. Refuge lands are a thriving sanctuary teeming with a rich diversity of fish, wildlife, and plants native to the Delaware Estuary.
Healthy and productive expanses of freshwater tidal marsh, open waters, mudflats, and woodlands support the hundreds of species that breed, rear their young, rest during migration, or call the refuge home year-round. The refuge provides environmental education programs in Philadelphia and Delaware Counties.
Yelp reviews for the John Heinz National Wildlife Refuge are shown below.
Read L L.'s review of John Heinz National Wildlife Refuge at Tinicum on Yelp
Suggested Links
Contact Information
US Fish and Wildlife Service
8601 Lindbergh Blvd.
Philadelphia PA 19153

Website