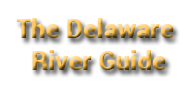 Interactive Maps
Thematic Maps
Search Delaware Sites
Also Explore
Schuylkill River
Delaware Tributary

The Schuylkill River is a river running northwest to southeast in eastern Pennsylvania, which was improved by navigations into the Schuylkill Canal. Several of its tributaries drain major parts of the center-southern and easternmost Coal Regions in the state. It flows for 135 miles from Pottsville to Philadelphia, where it joins the Delaware River as one of its largest tributaries.
In 1682 William Penn chose the left bank of the confluence upon which he founded the planned city of Philadelphia on lands purchased from the native Delaware nation. It is a designated Pennsylvania Scenic River, and its whole length was once part of the Delaware people's southern territories.
The Schuylkill joins the Delaware at the site of the former Philadelphia Navy Yard, now the Philadelphia Naval Business Center, just northeast of Philadelphia International Airport. The Schuylkill River is very popular with rowing, dragon boat, and outrigger paddling enthusiasts. The Schuylkill Navy was established on the riverside adjacent to the city of Philadelphia to promote amateur rowing in 1858. The Dad Vail Regatta, an annual rowing competition, is held on the river near Boathouse Row, as is the annual BAYADA Home Health Care Regatta, featuring disabled rowers from all over the continent, and in autumn the annual Head of the Schuylkill Regatta takes place in Philadelphia. Also, the Stotesbury Cup Regatta, the biggest high school regatta in the world, takes place there. The Chinese sport of dragon boat racing was introduced to the United States on the Schuylkill in 1983, and two major dragon boat regattas are held there in June and October of each year.
Suggested Links
Contact Information
Pa. Dept. of Conservation & Natural Resources
1 Boathouse Row
Philadelphia PA 19130

Website