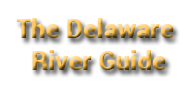 Interactive Maps
Thematic Maps
Search Delaware Sites
Bristol
Pennsylvania Town

Founded in 1681, the town of Bristol, Pennsylvania boasts a long and proud history.
Located on the banks of the Delaware River, Bristol served an important role in both the Revolutionary and Civil wars, and at one time it was a major textile-milling center. The old-world influence still exists today, as evidenced by the town's many antique shops, historic mansions and significant landmarks.
An important local figure, textile-milling tycoon Joseph R. Grundy, lends his name to many establishments around town, including the Margaret R. Grundy Memorial Library and the Margaret R. Grundy Memorial Museum. The latter showcases an impressive collection of authentic Victorian-era d?cor and furniture, and free, guided tours are offered Tuesday through Thursday as well as Saturday.
Suggested Links
Contact Information
Bristol Township
2501 Bath Road
Bristol PA 19007

Website