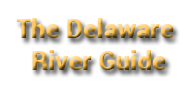 Interactive Maps
Thematic Maps
Search Delaware Sites
Also Explore
Washington Crossing Bridge
Highway Bridge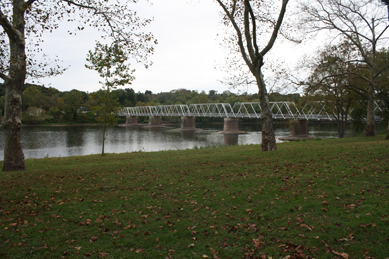 The superstructure of the Washington Crossing Bridge, which connects County Route 546 in Hopewell Township, New Jersey with PA Route 532 in Upper Makefield Township, Pennsylvania, was built in 1904. The bridge is a six-span double Warren truss structure, with a total length of 877 feet.
On February 14, 1831, an act was passed by the legislatures in New Jersey and Pennsylvania, creating the Taylorsville Delaware Bridge Company. By the provisions of this act, the bridge was to be located at Taylor's Ferry. The first bridge was built of timber and remained in service until it was swept away by the flood of January 8, 1841. A replacement bridge was constructed shortly thereafter and it remained in service until the superstructure was carried away by the flood of October 10, 1903. The bridge is currently restricted to a 15-mile per hour speed limit, a 3-ton weight limit, and an 10 foot vertical clearance. It is also very narrow.
Yelp reviews for this site are shown below.
Read Vince S.'s review of Washington Crossing Bridge on Yelp
Suggested Links
Contact Information
Delaware River Joint Toll Bridge Commission
1199 Woodside Road
Yardley PA 19067
800-363-0049
Website