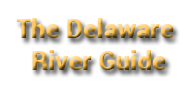 Interactive Maps
Thematic Maps
Search Delaware Sites
Also Explore
Kingwood DEP Access
Boat Ramp

This is paved launch maintaine by the Delaware & Raritan Canal State Park in Kingwood, NJ at Delaware River Mile 163.4. The site is located on Route 29, 2 miles below Frenchtown, NJ.
The Canal State Park charges a fee for use of the ramp. Boaters, canoeist, kayakers, and personal watercraft owners are required to have a boat launch permit to put in or take out at the this location, as well as the Bulls Island, Bryam, and Fireman's Eddy access points.
The permit costs $60 per season for state residents and $80 for nonresidents. Daily fee is $12 for a resident and $20 for nonresident. Fees are in effect from Memorial Day through Labor Day.
Suggested Links
Contact Information
Delaware and Raritan Canal State Park
145 Mapelton Road
Princeton NJ 08540
609-924-5705
Website