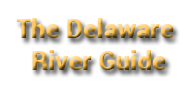 Interactive Maps
Thematic Maps
Search Delaware Sites
D and R Canal State Park
Park

The Delaware and Raritan Canal State Park is a 70-mile linear park that is one of central New Jersey's most popular recreational corridors. It is located along the Delaware River and is a valuable wildlife corridor connecting fields and forests. The park is a part of the National Recreational Trail System and offers a variety of recreational activities such as boating, jogging, hiking, bicycling, fishing, and horseback riding.
The Delaware and Raritan Canal in central New Jersey was constructed in 1830 and completed in 1834. It was dug mostly by Irish immigrants, and mostly by hand. Locks were built to help boats up and down the elevation changes along the canal. The canal was a reliable, energy-efficient route between Philadelphia and New York City from 1834 to 1932. It also made a shorter route for boats from the anthracite coal fields of eastern Pennsylvania to reach New York City. The canal resulted in additional jobs in towns along the route. In 1973, the Delaware and Raritan Canal and 17 related canal structures relating were placed on the National Register of Historic Places.
Yelp reviews for this site are shown below.
Read Margie A.'s review of Delaware and Raritan Canal State Park on Yelp
Suggested Links
Contact Information
Delaware and Raritan Canal State Park
145 Mapelton Road
Princeton NJ 8540
609-924-5705
Website