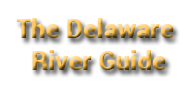 Interactive Maps
Thematic Maps
Search Delaware Sites
Also Explore
Dingmans Falls Visitor Center
National Park Service Site

Visitor center for the middle section of the park. The visitor center offers educational exhibits and guided waterfall walks in season.. It is open from late May through late October, but the park is open year-round. Near the visitor center is the Dingmans Creek Trail, a boardwalk trail, surrounded by rhododendrons, under a canopy of hemlock and hardwood trees. It leads to two popular waterfalls: Silverthread Falls and Dingmans Falls.
Silverthread Falls is an 80-foot cascade that looks like a thin silver thread. Dingmans Falls is the second highest waterfall in Pennsylvania with a height of 130 feet. The trail to Dingmans Falls is flat and even handicap accessible, but the trail to the top is mildly strenuous.
No fishing is permitted in Dingmans Creek from 100 feet upstream of the top observation platform to the road-side end of the parking lot. Silver Thread Falls along the Dingmans Falls Trail is closed to all climbing, rappelling, diving, or jumping including ice climbing for resource protection.The site is part of the Delaware Water Gap National Recreation Area. The 70,000-acre park follows 40 miles of the Middle Delaware National Scenic and Recreational River through the Delaware Water Gap.
Suggested Links
Contact Information
Delaware Water Gap National Recreation Area
PA State Rt. 209 & Johnny Bee Road
Dingmans Ferry PA 18328
570-828-6125
Website