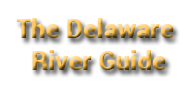 Interactive Maps
Thematic Maps
Search Delaware Sites
Also Explore
Foster-Armstrong House
National Park Service Site

Historic house is part of the Delaware Water Gap National Recreation Area. The 70,000-acre park follows 40 miles of the Middle Delaware National Scenic and Recreational River through the Delaware Water Gap.
The house was built in the late 1700s by Julius Foster, who used it as a tavern and a farm. The house has a distinctive gambrel roof with flared eaves, a beehive oven, and a fireplace in every room. The house is located on Old Mine Road, one of the oldest roads in America, and has witnessed many events in American history, such as the Revolutionary War, the Civil War, and the Tocks Island Dam controversy,
The house is now owned by the National Park Service and is open to the public on select summer Sundays. Volunteers from the Montague Association for the Restoration of Community History (MARCH) staff the house and display items of historical interest from the 1700s to the early 1900s. Nearby is the Neldon-Roberts Stonehouse, which was once a schoolhouse and dates back to 1820. Both houses are listed on the National Register of Historic Places.
Suggested Links
Contact Information
Delaware Water Gap National Recreation Area
1978 River Road
Bushkill PA 18324
570-426-2452
Website