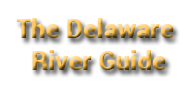 Interactive Maps
Thematic Maps
Search Delaware Sites
Also Explore
River Gage at Delaware Water Gap
River Monitor

Federal and state agencies maintain river level monitors throughout the Delaware River Basin. The U.S. Geological Survey compiles real-time information from river monitors, in cooperation with the U.S. Army Corps of Engineers and the National Oceanic and Atmospheric Administration (NOAA).
Current stream conditions forthe Delaware River at the Delaware Water Gap are shown in the graph below:
For current USGS information on river flow for the Delaware River at Delaware Water Gap, select this link.
Nearby Delaware River Stream Monitors

Upstream

Downstream
Suggested Links
Contact Information
U.S. Geological Survey
215 Limekiln Rd.
New Cumberland PA 17070
717-730-6900
Website