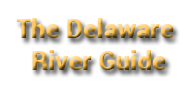 Interactive Maps
Thematic Maps
Search Delaware Sites
Also Explore
Dingmans Ferry Bridge
Highway Bridge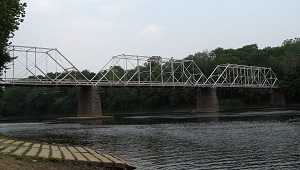 The Dingmans Ferry Bridge is the last privately owned toll bridge on the Delaware River and one of the last few in the United States. It is owned and operated by the Dingmans Choice and Delaware Bridge Company. The bridge provides an important link for commuters to reach destinations in New Jersey and New York City. The bridge lies south of the current Milford-Montague Toll Bridge, and well north of the Delaware Water Gap Toll Bridge along Interstate 80. It is in a popular crossing for commuters in Dingman Township and other surrounding communities.
The toll for automobiles is $2.00 each way. Books of 40 tickets can be purchased from the toll collector for $40.00 as of July 2022. Bicyclists may cross for free, but pedestrians are not allowed due to the narrow lanes. An 11-foot height restriction coupled with a weight restriction of four tons precludes large RVs and trucks from crossing. Although the bridge is within the Delaware Water Gap National Recreation Area, government employees pay the toll, unless responding to an emergency with lights and sirens on. The bridge is the only fixed-crossing that charges a toll to enter New Jersey.
The bridge's toll booth, located on the Pennsylvania side, is staffed by a single toll collector who stands in between the two lanes of traffic, collecting toll fees by hand. Christmas Day is the only day of the year on which the toll booth is unattended; everyone may cross for free.
Suggested Links
Contact Information
Dingmans Chioice and Delaware Bridge Company
RR 739
Dingmans Ferry PA 18328
570-828-2623
Website