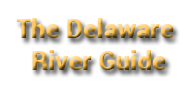 Interactive Maps
Thematic Maps
Search Delaware Sites
Pond Eddy Bridge
Highway Bridge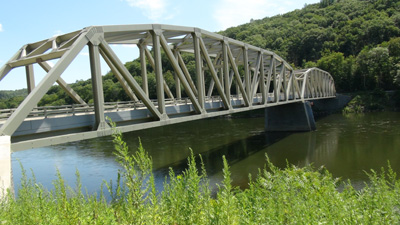 The Pond Eddy Bridge is a truss bridge spanning the Delaware River between the hamlet of Pond Eddy in Lumberland, New York and the settlement informally called Pond Eddy in Shohola Township, Pennsylvania. It is accessible from NY 97 in Lumberland on the New York side and two dead-end local roads, Flagstone Road (State Route 1011) and Rosa Road on the Pennsylvania side. The bridge was built in 1903 by the Oswego Bridge Company to replace an old suspension bridge that had washed away in a flood earlier in the year. It connected the bluestone quarries in Pennsylvania to New York.
The bridge is the only access point for some 20 homes on the Pennsylvania side of the river. The hamlet of Pond Eddy sits on the New York side, in the town of Lumberland in Sullivan County. This bridge was extensively rebuilt in 2019, with an effort made to preserve the look of the old bridge . The estimated cost of replacement was $13 million.
Photo: Wikipedia Creative Commons.
Suggested Links
Contact Information
New York-Pennsylvania Interstate Bridge Commission
55 Keystone Industrial Park
Dunmore NY 18512

Website