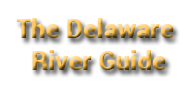 Interactive Maps
Thematic Maps
Search Delaware Sites
Pond Eddy Base, Landers River Trips
Private Access

The site is operated by Landers River Trips, with multiple locations along the Delaware River offering canoeing, kayaking, rafting, and tubing. The Pond Eddy site includes a snack bar. The next Landers site is at Matamoras, 12 miles downstream.
The Pond Eddy Base is located at 2389 State Route 97, Pond Eddy, NY 127701, featuring a 4-5 hour trip on the river for approximately 9 miles based on the water level of the river. Other trips go through several sets of rapids, through the scenic Hawks Nest section of the river, and pass under two bridges
Yelp reviews for Landers River Trips are shown below.
Read Mallory G.'s review of Lander's River Trips on Yelp
Suggested Links
Contact Information
Landers River Trips
2395 State Route 97
Pond Eddy NY 12770
800-252-3925
Website