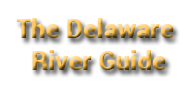 Interactive Maps
Thematic Maps
Search Delaware Sites
Also Explore
Skinners Falls Bridge
Highway Bridge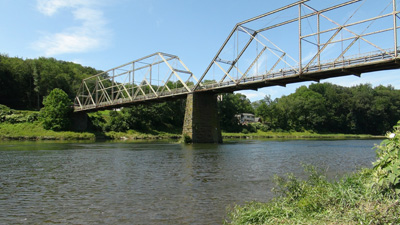 The Skinners Falls-Milanville Bridge is a bridge spanning the Delaware River between Milanville, Pennsylvania and Skinners Falls, New York in Wayne County, Pennsylvania and Sullivan County, New York. The bridge, currently closed to traffic, is 470 feet (140 m) long and holds one single lane of Skinners Falls Road, a local road.
The bridge was constructed by the American Bridge Company and funded by the Milanville Bridge Company. The bridge replaced a ferry run by raftsman Daniel Skinner and his family. The bridge opened in 1902 It is one of several bridges in Sullivan County that are on the National Register of Historic Places, including the Roebling Aqueduct and Pond Eddy Bridge. In late 2019, an inspection of the bridge led to a temporary closing of the bridge. As of summer 2023, plans for repairs or a replacement bridge are still in development.
Yelp reviews for this site are shown below.
Read Deirdre M.'s review of Skinner's Falls Bridge on Yelp
Suggested Links
Contact Information
New York-Pennsylvania Interstate Bridge Commission
55 Keystone Industrial Park
Dunmore NY 18512

Website