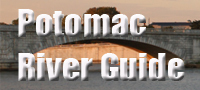 Potomac Riverwatch: Winter 2020
NEWS
Harpers Ferry Train Wreck--
A footbridge across the Potomac River at Harpers Ferry remains closed due to damage from a railroad accident in December. On December 21, a CSX freight train derailed as it was crossing the river, damaging a nearby footbridge. The closing affects parts of the Harpers Ferry National Historical Park and access to the Appalachian Trail.
Details
Mallows Bay Now a Marine Sanctuary--The National Oceanic and Atmospheric Administration (NOAA) has formallly designated an 18-square mile stretch of the Potomac in Charles County, Maryland, as a marine sanctuary. It is the first national marine sanctuary designated since 2000 and protects the remnants of 118 World War I-era wooden steamships and vessels as well as other significant maritime heritage resources.More information.
New Snakehead Study--Do snakeheads cause disruption of native fish on the Poromac? Once thought to be a major threat, the snakehead has not been the "Frankenfish" many thought it would be a few years ago. However, a new study reported by the Potomac Conservancy indicates that the snakehead is having an effect on some streams. Details
Bobcat on the Canal--It's not every day you get to see a wildcat on the Potomac River, especially inside the District of Colulmbia. But recently, a staff member of the District's Humane Rescue Alliance noticed an image of a bobcat on the C&O Canal just above Georgetown. It's believed to be the first sighting of the small wildcat in the District in modern times. Details.
Events
Saturday, Februrary 1: Winter Festival at Yards Park--
Now in its sixth year, "Ice Yards" near the Anacostia waterfront will have multiple bars serving cocktails and local brews, ice games and carving, axe throwing, snowboard simulations, and a chance to take the Polar Bear Plunge in a swimming pool.
Details
Suggested Links