Torpedo Factory Art Center
Virginia Arts Site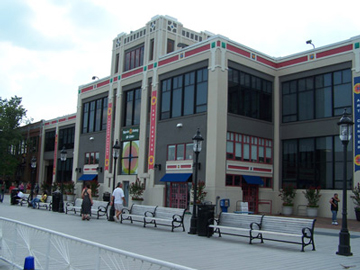 The Art Center at the Torpedo Factory is home for small studios and galleries of about 200 professional artists, who create, exhibit, and sell their works at the site. The building is one of several large warehouses and factories along the waterfront that have been adapted for new uses. Originally a torpedo shell case factory built in 1918, the complex served as a store house for the federal government until the City of Alexandria purchased it in 1969. During the 1970s, the entire complex was developed, with the Torpedo Factory Art Center as a focal point of the renovation. Other buildings along the waterfront here have been converted into condominiums, offices, retail shops, and restaurants.
The Torpedo Factory is also the home of Alexandria Archaeology, a city-sponsored organization that performs research and studies of sites in the city. Volunteers and city archaeologists reconstruct Alexandria history. Museum exhibits describe excavations and research. The program is one of only a handful of city-sponsored archaeology programs in the country; it has won national recognition for its creative and innovative methods of preserving the waterfront while allowing for new development. The archaeology lab and exhibit area are open to the public. Free admission.
---
Add your comments below.
Contact Information
Torpedo Factory
105 N. Union St.
Alexandria VA 22314

Website